Thanksgiving Dinner Special
Thursday night from 5-8pm, students all around campus could find themselves a little slice of home for dinner. Harris Dining Hall and Martin Buffet served up a special early Thanksgiving for the Oxford students. Both locations featured a jam-packed menu with a choice of either ham or turkey for the main entree, as well as potato dinner rolls, pumpkin nut bread and some corn muffins!  
After students received their entree, they could select from a wide array of sides like whipped potatoes, green bean casserole, and hearty squash soup. Sides also included gluten-free and vegan options like whole kernel corn, vegetarian poultry gravy, and whole cranberry sauce.
After they loaded up on delicious side items, they could head over to the dessert table. Here they found mini baked pecan pie tarts or a slice of warm apple berry crisp with a hand-dipped scoop of Young's Jersey Dairy Vanilla Ice Cream.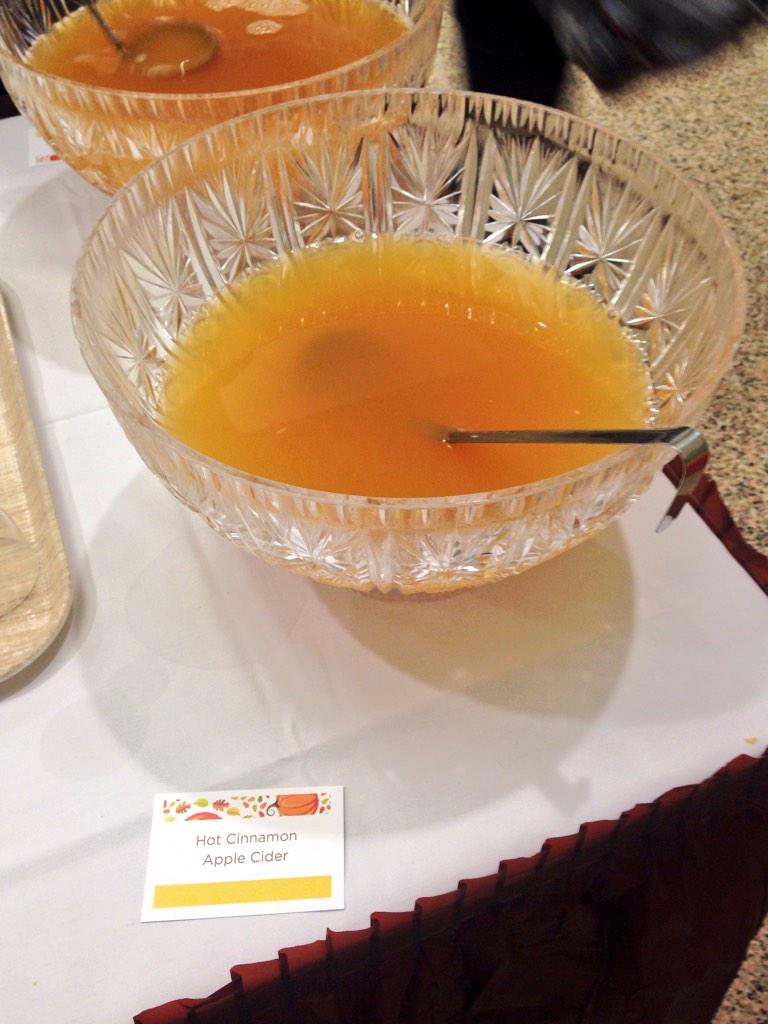 Once dinner was over, they could wash it down with a cup of fresh, hot cinnamon apple cider and snack on artichoke spinach dip with garlic crostini dippers or bacon, almond and mango chutney cheeseball with crackers
After everyone finished enjoying the meal, we had time to ask other students what they thought about their experience. Stay tuned for a student spotlight interview!
As always, thanks for eating with us!
~
~
Gobble On
(November 18)
~
Gobble Til You Wobble
(November 17)
If you've been craving Thanksgiving dinner, then you'll be happy on Thursday…
~
Thanksgiving dinner coming soon… #blessed
(November 14)
~
If you didn't know…
(November 13)
Emporium, Dvidend$, King Café, Patisserie, Boulangerie, and Miami Ice are also serving bakery goodness today through Friday.
~
From Our Kitchen to Yours.
(November 13)
Click here for ordering options.
~
Don't miss out on bakery goodness
(November 12)
~
Go get yourself a pumpkin muffin top!
(November 4)
~
Game winning ball!
(October 31)
Wesley Scott #60 and JT Jones #91, on behalf of Miami Football, presented Martin Dining Hall with their first game winning ball this season from the October 4th game against UMass! (Miami defeated UMASS 42/41.)
The players presented Martin with the winning ball because of the support the dining hall provides for the players throughout the year, including staying open all summer to feed our hardworking athletes. All this time spent together, between players and the staff at Martin, builds strong ties between the players and the community and school, which in turn builds even more Miami pride.
Show your Miami pride by supporting the Redhawks at home in tomorrow's game!
It starts at 2:30. Don't be late. 
And remember this is Homecoming weekend! Show our players how much we appreciate them!
~
Happy Halloween!
(October 31)
Grab a cookie or pastry from Patisserie to get in the fall spirit!
~
Student Clubs at OxVegas!
(October 30)
Tuesday night at Miami Dining's Homecoming dinner, OxVegas, there was a ton of student engagement and several on-campus organizations had the chance to perform at the event.
Immediately walking into Harris, there was entertainment in the form of a living statue and the Juggling Club.
The Juggling Club (which meets twice a week, Tuesday outside of Phillips and Saturday outside of the Rec, at 6pm) had a great time showing off their skills and talking to people about their organization.
From responses like:
"This is really exciting for us! We're meeting lots of cool new people."
-Brent Eastman, Vice President
to short and sweet responses like:
"It's all cool."
-Christina Tenison, Secretary
Miami Dining is happy to hear it all! And we're especially happy to reach out to student organizations and actually work with Miami students.
On the topic of juggling:
"Anyone can juggle, you just have to practice."
-Logan Babcock, President and Founder
After dinner one day, be sure to check out one of their meetings!
~
The Miami University Irish Dance Club was another organization that was featured last night.
This performance was a special event for this club because it was their first performance on campus.
Even while I was talking to this club, post-performance, everyone who passed said some version of "so cool" or "great job."
If this is an organization you'd be interested in joining, email Kelcey Steele at steelekk@miamioh.edu
~
A huge thank you and great job to all of the other organizations who performed for OxVegas!
Just Duet, Soul2Soul, Treblemakers, Misfitz, and Indian Student Association
~
OxVegas: Behind the Scenes
(October 29)
For the planning of this event, Miami Dining's dining and marketing departments worked closely with both students and the Homecoming planning committee to create an exciting event for students.
When the Homecoming planning committee approached us about a possible partnership, we said"We'd love to!"
We reached out to lots of groups—Just Duet, Soul2Soul, Treblemakers, Misfitz, Indian Student Association, Miami University Irish Dance Club, and the Juggling Club—so there would be even more student involvement. In addition to these organizations we worked with, we also solicited advice from our student employees about what they think about some of our ideas and they helped us contact the some of the student organizations as well.
We designed a Vegas style menu for the buffet that included crab legs, shrimp, fried ravioli, fruit tarts, and several other delicious options.
This event went very well and we've gotten a lot of great feedback, I wouldn't be surprised if we did it again.
~
Stay tuned for tomorrow's post on the student organizations that provided the entertainment!
~
Overheard at OxVegas (last night in Harris)
(October 29)
"I came here because my friend was here and let me know this was going on."
-Claire Kennedy
"It seems like there was a lot of effort put into this event. It's something different. I like it!
Good food too."
-Annie Mir
Also, variations on 'I wish they did this every day!;' 'The food is amazing;' 'I'm overwhelmed!;' 'When there are pot stickers out, you know you go HAM on the pot stickers;' 'Fried ravioli?! I want more!'
Miami Dining's response?
We love hearing positive feedback and we'd love to continue this event in the future. If there's anything you loved about the event or anything you think would be cool for the future, please let us know!
More shots of happy students:
~
What happens in OxVegas, stays in OxVegas
(October 28)
OxVegas, Miami's official Homecoming dinner, is tonight from 5-8pm in Harris!
~
Halloween cookies and cupcakes for all!
(October 22)
Multiple locations on campus now offer those cute and delicious holiday cookies and cupcakes. Look for them at Miami Ice, Dividend$, King Café, MacCracken, Spring Street, Scoreboard, and The Patisserie.
Go get you some.
~
Local Apples
(October 21)
Nothing says fall like a juicy apple.
Pick out your very own juicy apple at Bell Tower, MacCracken, The Greystone, Scoreboard, or Mporium today!
~
Mark your calendars! #OxVegas
(October 20)
Harris will be transformed!
~
Ummm, Yummm!
(October 17)
Starting today through November 20th, Bell Tower, King Café, Mporium, The Patisserie, MacCracken, Tuffy's, Spring Street, Dividend$, Miami Ice, and the Boulangerie will be serving pumpkin muffin tops.
Because everyone knows that the top is the best part of a muffin.
~
Local Pumpkin Smoothies
(October 16)
Craving something sweet and autumny?
Much like the pumpkin milkshakes, the pumpkin smoothies also feature local pumpkins and will be served until the end of November at King Café, La Mia, Haines, Bell Tower, Tuffy's, and Miami Ice.
Just the other day I saw some friends of mine enjoying the smoothies:
"It clearly has pumpkin spices, but they're not overwhelming. The beauty of the pumpkin still comes through."
If you want to make these at home, the recipe is really simple:
Pureed pumpkin
Yogurt base *
Ice
And, of course, pumpkin spices
Then blend to perfection.
*For an extra healthy treat, try using Greek yogurt. You can even try flavored Greek yogurt, like caramel, cinnamon, or even honey!
~
Get ready for OxVegas!
(October 16)
Trust us, Harris will be transformed.
~
Holiday Project
(October 14)
On October 16th & 17th (from 8am-5pm) in 211 Warfield there will be a bake sale that supports the Holiday Project, which is an organization that is committed to providing a happy holiday season to foster children in this area.
On both days, cookies, pies, breads, candies, cupcakes, and much more will be offered. Additionally, on the 16th various chilis, soups, corn bread, and assorted casseroles will be offered for purchase as well.
Come out, treat yourself, and support the Miami/Oxford community!
~
October is pasta month!
(October 9)
October is officially pasta month and we have the perfect places for you:
La Mia (in the same building as Harris Dining Hall) and Sundial (in Armstrong).
Whether you're looking for a quick trip, carry out, or a sit down meal, both of these restaurants will meet your desire and pasta cravings.
Spread the word!
~
They're Coming!
(October 8)
Coming soon to King Cafe. 
Later this month, Halloween treats will be offered around all of campus!
~
Download the App!
(September 25)
If you're looking for a great way to save money on campus, be sure to download the Campus Special app. You'll enjoy savings for locations like La Mia Cucina, strEATS, Bell Tower, and even the Rec & Goggin Pro Shops.
Go to the App Store.
Type "Campus Special."
Click download on the icon that looks like the photo above.
Once downloaded and open, select "deals" at the bottom of the screen. Then, hit "all" or "on-campus." Either will get you to our specific savings.
Locate the deal you'd like to use, select it. You will then be prompted with a "redeem" button. The cashier at that respective location must hit "redeem" for you, or see you do it in order to validate your coupon use.
That's it! There are deals for 10 rotating locations around campus, so stay tuned for new deals each month.
You can even use this app with a meal plan to get the same savings!
~
Super Brunch Goes Super Healthy!
(September 14)
We have inside information to what this today's brunch allergen station will be serving:
-Tomato Basil Chicken Breast
-Portabello Quinoa Pilaf
-Roasted Acorn Squash
-Roasted Fingerling Potatoes
Roasted is a healthier version of your everyday breakfast potato options!
~
Go to Super Brunch.
(September 7)
Western Dining Commons. 10-2pm.
Meal plans are accepted and if you're paying with cash or credit, there's a $3 off coupon in Campus Special!
~
Carpe Crepes
(September 6)
Seize the crepes.
Our first Super Brunch of the year is tomorrow! Western Dining Commons from 10-2.
Put a reminder in your phone!
Along with crepes and various other menu items, Frittatas will also be served. To make a healthy start to your Sunday, choose egg whites and plenty of veggies!
~
Dining Passport Bonus Punch Opportunities!
(September 5)
Now through Tuesday, eating at First Stop will get you a bonus punch on your Dining Passport!
For the next two Sundays, attending Super Brunch will get you a bonus punch (if you remember to bring your Dining Passport)!
~
Good EATS!
(September 4)
The strEATS truck has been busy the last couple of days. If you've stopped by, you've either sampled some food or you've voiced your opinion on the Football menu. Trust us, there are plenty more chances to be a part of the excitement this fall!
Just last week strEATS was at the Miami University Art Museum handing out free grilled cheese sandwiches. Students and faculty alike enjoyed the warm weather, free henna, beautiful art, and entertaining music. If you were one of the many to fall in love with these sandwiches, look for the full-size versions on future strEATS menus!
We overheard some great feedback during the event,
• "Very good."
• "I couldn't wait for the grilled cheese. I wasn't disappointed."
• "Woah, I didn't know there were different types of grilled cheese!"
With praise like this, would wouldn't want more?!
Both the Art Museum and strEATS love collaborations like this and hope to do more in the future. If you're interested in a partnership opportunity, please let us know!
 ~
You're Cordially Invited:
(September 3)
~
Mega Fair Reminder
(August 27)
Mega Fair 6-9pm Central Quad
Be sure to check out our booth at Mega Fair from 6-9pm on Central Quad. We'll have information about special diets, dining locations on campus, and student employment!
All your dining needs can be met at this booth. See you there.